Do you own an EWP that is greater than or approaching 10 years since the date manufacture? You may require a 10 year inspection to ensure the machine is legal and safe to operate.
What is a 10 year inspection?
Elevated Work Platforms (EWPs) greater than 10 years old need to have a major inspection carried out that involves dismantling, inspecting and testing the critical safety components of the machine. This ensures the equipment is safe to operate and that no cracks have developed that could threaten the integrity of the machine.
What is the cost of an EWP 10 Year Certification?
As a rough guide, the price to complete a major inspection is 25% of the machines replacement value. Therefore, a $15,000 scissor lift would cost $3750 to complete a major inspection. This approximate price does not include any parts which may need replacing in order to re-certify. The cost of an EWP major inspection will depend on the manufacturer and model number of the EWP so please contact Swift Equipment for a detailed quote.
Does my machine require a 10 year inspection?
All mobile EWP's greater than 10 years from the date of manufacture are required to have a major inspection carried out in accordance with AS 2250.10-2006. This includes scissor lifts, boom lifts and telehandlers.
What's included in a major inspection?
The machine is tested to a strict checklist that will cover all components and functions identified by the manufacturer or a trained technician as being critical to the safety of the machine. This may include a strip down of the machine and non destructive structural testing of welds and steel work. The EWP will then be fitted with a compliance plate indicating the machine has had the inspection carried out. The owner will also be supplied with documentation stating the results of the tests carried out.
Why choose Swift Equipment to inspect your EWP?
Our technicians are highly experienced in EWP major inspections. We regularly complete this work either on site or at our service facility in Pakenham in Melbourne's South East. Please contact us if you require a quote or further information on our services.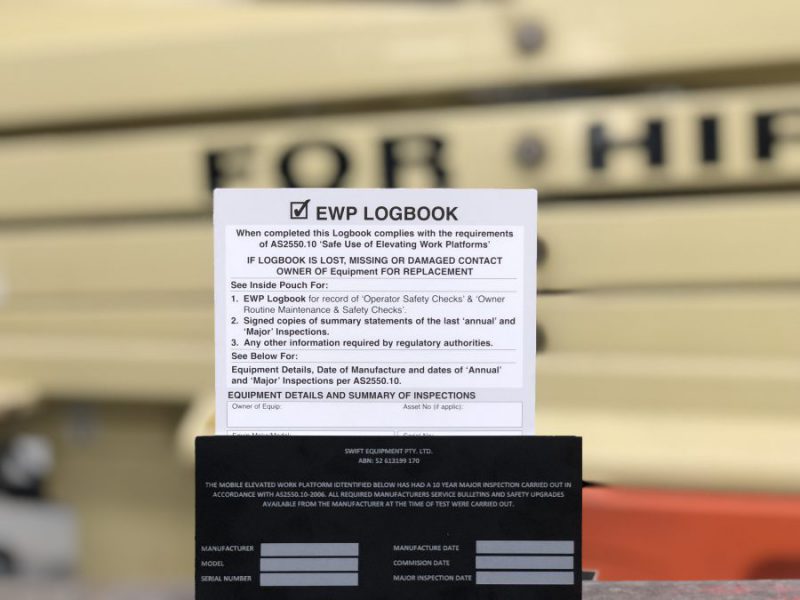 Request a quote or further information